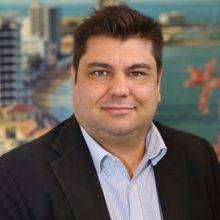 Αντώνης
Μικελλίδης
Αντιπρόεδρος Υπηρεσιών
Επικοινωνία
25029470
am@ooc.com.cy
Antonis Mikellides
Education:
Mr. Antonis Mikellides was born in London in 1978. He studied at the University of Westminster where he obtained a BA degree in Business Computing and holds a Postgraduate degree in Shipping Trade and Finance from City University London as well as a diploma in Terrorism Studies, focusing mainly on Marine Piracy, from the University of St. Andrews in Scotland.
UK Employment and Activities:
Grandson of the late Kyriacos Mouskas, one of the first Cypriot shipowners, Mr. Mikellides joined Zela Shipping Co Ltd in London in 2002 as a fleet operator, and in 2006 was in charge of restructuring the fleet's management company Seascope Shipping Agency in Piraeus Greece.
During this time, as a member of the Conservative Party in the UK, he served as President for the constituency of Chipping Barnet and had an active role in Prime Minister Cameron's campaign as leader of the party, and the nomination of MP Theresa Villiers.
Current Employment and Activities:
As from 2010 he has been a Director and Vice-President of Olympia Ocean Carriers Ltd. in Limassol, Cyprus operating a fleet of 7 Cape Size bulk carriers. Mr. Mikellides also became a Director of Sea Trade Holdings Inc. in 2012 operating 9 modern Ultramax bulk carriers, and a Director of One Bulk Carriers Inc. in 2017 operating a fleet of 2 Kamsarmax bulk carriers.
He has been elected on the Board of Directors of the Cyprus Union of Shipowners consecutively since 2009 and as of 2016 was appointed on the Board of Governors for the Cyprus Maritime Academy at the University of Nicosia.
He has been appointed on the Board of Directors of Vassiliko Cement Works Public Company LTD since 2014, and also serves on the Board of Directors of Citigrade Capital Ltd. and is the Founder and Director of Blue Phoenix Contracting Ltd.
Currently serving as Vice-President and elected on the Board of Directors of the Famagusta Chamber of Commerce in 2017, Mr. Mikellides won the title of Young Businessman of the year in 2018 awarded by the Cyprus Chamber of Commerce.
Sports:
In 2006, Mr. Mikellides became a member of AEO Proteas Voulas Basketball Club where he held various positions including Team Manager and Academy Director.
In 2015 He established Blue Phoenix Basketball Ltd. in Cyprus, and was appointed as President of Anorthosis Famagusta (Basketball Department) and Vice-President of the club as a whole. Under his leadership, the club managed to establish the largest basketball academy in Limassol within just a few months of operation and contends in both the Men's and Women's Cypriot Championships.
Service:
Mr. Mikellides is a member of the Rotary Club of Limassol Berengaria Cosmopolitan where he has held the position of Club Foundation Chair, Treasurer, and of Club President for the year 2017-2018. With Benefactor and Major Donor Recognition, Mr. Mikellides has been selected as Assistant Governor for District 2452 as of July 2019.
Mr. Antonis Mikellides is married and has four sons.